Mark Elliott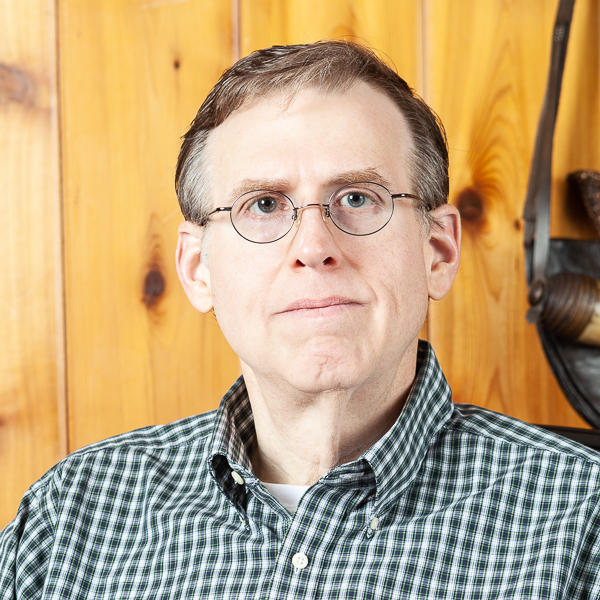 Webmaster
I have over 21 years of experience in information technology (IT) operations mostly in the capacity of a systems engineer working with multiple technologies with clients at all levels of the organization to ascertain client needs and create appropriate technical solutions. However, as you can see from my work history, it has been a long time since I worked for someone else. I left IT for a number of years for personal and family reasons; at least part of the time pursuing my avocations as a way to make a living. For the past 12 years or so, I have been supporting my business operations by creating and maintaining my own web presence, mostly in WordPress. In fact, most of my sales were facilitated by my websites. For my chosen search terms, my most recent site (https://www.markelliottva.com) was ranking on the first page, if not the top of the page, in a Google search. Unfortunately, my chosen business pursuits represented such a small market segment, there just wasn't much money to be made. I had known that for some time, but pursued the dream until the pandemic put the final nail in the coffin.
So, at the end of 2021 I decided to close my business and sign up for a coding boot camp at the University of Richmond to become a full stack developer. As I had indicated, I had spent a good bit of my time doing basic web development in support of my personal and business interests. It was something I enjoyed and it seemed as if the time had come to pursue it professionally. Given my degree in Information Systems, my decades of experience in IT, as well as my practical web development work, I feel that I am well positioned to start this new career. I bring a lot of experience in the IT project life cycle that a less experienced developer would not have. I know how to work with people at all levels of the organization, determine the pertinent deliverables, and focus on the job at hand. I understand business priorities, change management, and have a track record of getting the job done. I have a good bit of experience breaking down complex projects and problems into manageable tasks and resolving them one at a time. Last but not least, I have a lifetime of experience learning new skills. I have learned a lot of things, mostly on my own. I believe I would be an asset to any organization.
Professional Portfolio
This online resume has been hand coded by Mark Elliott in HTML/CSS using responsive styling for mobile devices.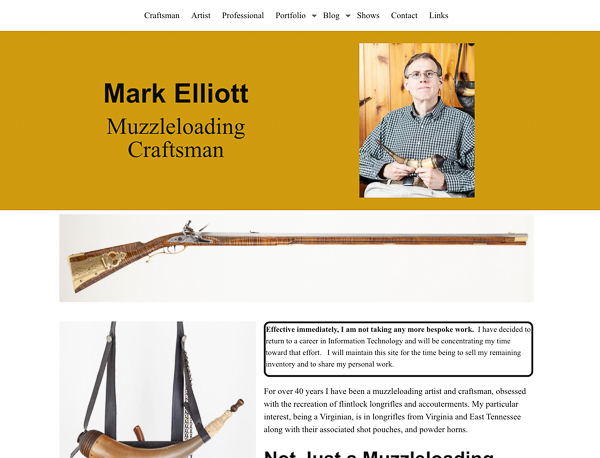 Mark Elliott's Personal Website
Personal website representing Mark Elliott's long standing interest in traditional arts and crafts. This site was created using WordPress with Elementor as well as some custom CSS.
View Project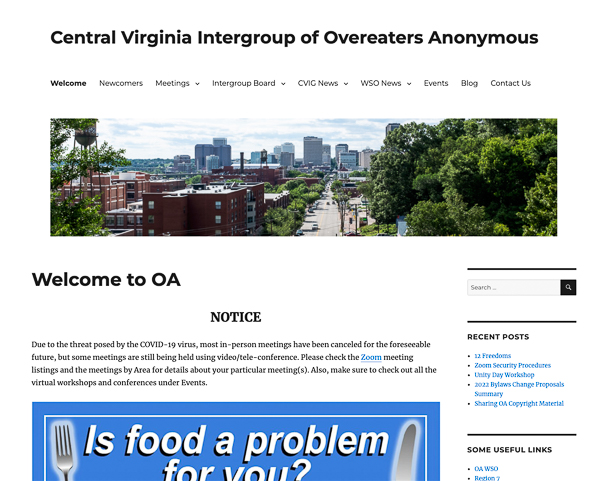 Website for the Central Virginia Intergroup of Overeaters Anonymous
Website of the support body of the Overeaters Anonymous meetings in the central Virginia area. This site was created and is maintained on a volunteer basis using Wordpress with a stock theme and CSS customizaton.
View Project
Work Experience
Webmaster
Central Virginia Intergroup of Overeaters Anonymous
2019-Present
Created and maintain WordPress website for the Intergroup as well as consult on technical matters.
Webmaster
Self-employed
2010-2022
Created and maintained multiple WordPress websites in support of various business endeavors including photography and traditional arts and crafts.
Caregiver
Self-employed
2008-2014
Left last job for personal reasons and became a caregiver for a family member.
Engineer
Peak10
2006-2008
Engineer in a regional data center responsible for the installation and support of Windows and Linux servers for many different types and sizes of clients.
Webmaster
Self-employed
2003-2005
Intel Server Support Engineer
Anthem
2000-2003
Installed and supported Windows servers in Anthem's Richmond data center. Managed the successful relocation of servers to the new national data center.
Education
University of Richmond, Richmond,Virginia
Coding Boot Camp (currently enrolled)
Full stack web development.
Virginia Commonwealth University, Richmond,Virginia
B.S. Information Systems
Studies in business with an emphasis on information systems.